Congratulations to our 2018 Driver of the Year,
Douglas Christianson – Sparhawk Trucking!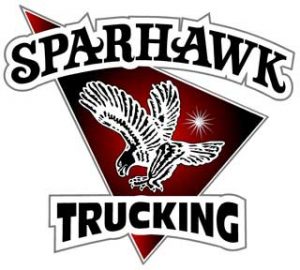 Douglas Christianson has been behind the wheel professionally for more than 44 years, spending 23 year of those years with Sparhawk Trucking.  Doug has logged more than 5 million miles over the last four and half decades with no out of service violations. Three million of those miles are with Sparhawk,His co-workers consider him a very special driver, taking pride in his work and providing superior service for their customers. In addition, he is a dedicated family man, married to his wife Nicki for all these years.
January – Christopher Byrne, Fairway Transit Inc.
Christopher Byrne has driven an impressive 1.6 million miles without a crash or citation throughout his 15 year career as a professional truck driver. He has driven all 15 years with Fairway Transit Inc. Chris works very hard to promote a positive image for the trucking industry and represented Fairway Transit in the Special Olympics Convoy. When he is not out on the road Chris enjoys fishing, the serenity of the woods and spending time with family and friends. He lives in Big Bend, Wisconsin.
February – Jeff Siemandel, Skinner Transfer Corp
Jeff Siemandel has gone 27 years as a professional truck driver without a single citation on his record. During this time, Jeff has driven over 2.3 million safe miles. He is very proud of his driving ability and states it is a challenge just to get home safely these days, and his current employer, Skinner Transfer Corp. agrees.  Jeff is the kind of man who is devoted to his church and will help anyone. Last winter he helped a van of elderly people who had slid off the road and rolled over during a snowstorm.  He lives in Reedsburg, WI with his wife Kathy.
March – Randy Kelly, JBS Carriers
Randy Kelly is a professional driver for JBS Carriers and has been driving for more than 20 years. He has been accident and citation free for over 1 million miles. Randy is one of those drivers that makes JBS Carriers proud. He is always courteous, clean, on time and a great example of a hard working truck driver. Randy is an avid fisherman and helped put on a fishing tournament where all the proceeds went towards the prevention of child abuse in St Clair County. He lives with his fiancé, Lori in Port Huron, MI.
June – Christopher Bordeaux, N&M Transfer
Christopher Bordeaux with N&M Transfer is a driver's driver, now entering his fourth decade as a professional commercial motor vehicle operator.  During his lengthy career, he has logged more than 2 million miles, 300,000 of those miles with N&M Transfer.  Chris is a "hands on" type of person who loves to build and fix things and has a passion for cutting wood.  He has been heavily involved in the trucking industry and has earned the respect of his employers and colleagues as both a driver and trainer. He and his wife Patricia have two adult children and have always given of their time to their community and Church.
July – Dale Kipfer – Brakebush Transportation, Inc.
Dale Kipfer of Brakebush Transportation, Inc. has never had an accident over the 2.3 million miles he has driven. In his 32 years as a professional truck driver, there have been several situations where his quick thinking safety skills and training as a firefighter have helped people out of dangerous circumstances. Dale always has a good attitude and a level head. He is a driver that can be looked up to and sets an exemplary example of who a professional driver is. Dale is a family man who is very proud of his three sons and his wife Wendy.
August – Steven Ganzer – Wal-Mart Transportation, Menomonie
Steven Ganzer has been a professional truck driver for 34 years and has spent the last 25 years of his career with Wal-Mart Transportation. He has driven over 4 million miles without a single preventable accident.  Steven enjoys volunteering at his church and spends time serving at the Community Kitchen in Eau Claire, WI. Whenever he can Steven will stop to help with broken down vehicles on the roadside.  He resides in Fall Creek, WI.
September – Alyn Jones- Martin-Brower
Alyn Jones has driven 3.6 million plus miles throughout his 42 year career as a professional truck driver. He has has been driving for Martin-Brower the last 22 years of his career. Alyn is the textbook definition of a professional driver. He always holds himself to the highest standard and does what he can to help out the company and their other drivers. Alyn is experienced in driving reefers, flatbeds and tankers. He lives in Whitewater, WI with his wife Debra.
October – Marvin Beilfuss – WEL Companies
Marvin Beilfuss has been driving for 20 years, with 1.9 million miles driven with WEL Companies.  He was been driving for them  for the last 16 years.  Marvin works very hard and is very reliable, taking pride in all he does. Marvin is a trainer for WEL Companies.  He drives local now, but when he drove over the road he would carry a tool box and water in case he saw someone on the side of the road who needed help.  Marvin spends his free time visiting his mom in the nursing home.  He is an avid fisherman and loves to spend his time working on cars, boats and lawn mowers.
November – Gary Wienkes – KLEMM Tank Lines/Kenan Advantage Group
Gary Wienkes has 2.25 million miles in his 22 year career as a professional driver.  The last 11 ½ years of been with his current employer as a city driver.   Gary is that driver that comes in to work every day and does his job.  He doesn't call anybody unless there is an issue.  He is the perfect example of a driver, keeping both himself and the truck very clean.  He spends his time off fishing, boating and hunting.  Gary lives with his wife Denise in Highland WI.
December – Recil Hensley – Birchwood Transport, Inc
Recil Hensley has been a professional driver for 25 years.  He has 2.8 million miles in his career.  The last 3 years he has been an owner operator for Birchwood Transport.  Recil drives a Lime Green long nose Peterbilt he calls "Optimus Lime."  Over the year he has participated in sever Special Olympic events.  When others ask how he is successful in these tough times, he says " I am not afraid to work!" Recil lives with his wife, MaryBeth, in Roscoe IL along with their family.
Not Pictured:
April – Mario Martinez, America's Service Line
Mario Martinez is a professional driver for America's Service Line and has four decades of driving experience both in the United States and Columbia.  He has logged more than 2.5 million miles during that time and more than 1 million miles for America's Service Line over the last 11 years.Mario is a great example of a hard working truck driver, family man, and dedicated to helping those in need.  He is married to his wife Luzmary and have four adult children.  He and his wife enjoy dancing, taking vacations, and visiting with his family in Columbia.  Mario has an outstanding driving record and is a wonderful representative of safe driving for America's Service Line.